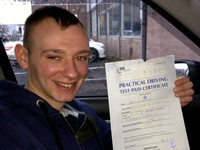 David Golding
Intensive course
Thanks alot to Iain. I was very comfortable with Iain's friendly, professional attitude.
Using the DVD and workbook to prepare helped me to understand what I would be doing on each different lesson. This helped to reinforce what I had been taught previously and now makes me a safer driver. I was able to recap and revise between lessons. All these factors helped me learn quickly and I always had a plan of anything that i needed to work on.
I WILL be recommending Iain to anyone who wants to learn to drive David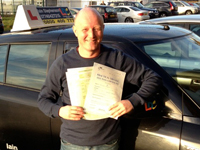 Raymond George
Semi intensive
As a 42 year old who had never driven I was pretty nervous about starting lessons. Iain managed to put my mind at ease and quickly raised my confidence levels until I really thought of myself as a driver.
With Iain's help and the LDC booklet and DVD I was able to pass the test and go on to the Pass Plus which I found essential, the motorway and country road driving really built my confidence up to get out there on my own.
Cheers Iain for all the help.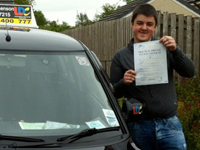 Chris McGonigle
Midway Pass course
Iain was very nice and friendly when he helped me pass my test. The DVD and workbook helped a lot by letting me know what to expect on the test & see what it would be like. I could do lots of preparation at home & study between lessons, recapping what I had learned. Passplus really helped me understand how the motorway system works and has made my overall driving more positive.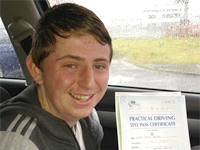 Stuart Halliday
Semi Intensive
I found my learning experience with Iain wonderful, as the set-up provided allowed me to gain confidence and skill driving. Iain is a great teacher and the books and dvds provided were a great help and I do not believe I would not have passed without the materials given. Thanks Iain for all your help.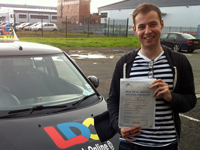 Kevin Hamilton
1 week pass course
Can't express how delighted I was with the intensive course with Iain. To have passed my test only a week after beginning to learn to drive is phenomenal. The main reason for my success was definitely the approach of Iain and the LDC workbook and dvds together, along with hard work. The workbook and dvds help you build a base of knowledge to help you progress with the lessons. However, the main driving force is definitely Iain. His enthusiasm, drive, encouragement and support was fundamental to me and made the daunting challenge a thoroughly enjoyable one. I can't recommend Iain highly enough!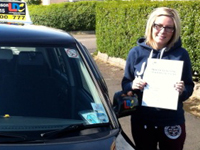 Kerry McGeough
Intensive
WOO HOO I PASSED!! - Recently I decided to finally take my driving lessons after many years of putting it off. Due to work commitments and not wishing to drag it on forever I had decided a more intensive course would suit me. I found passwithiain online and after reading the reviews decided to give him a call. The thing I appreciated most was Iain coming to the house to introdruce himself and go over the workbook / dvd system he uses along side the lessons. Being a bit aprehensive this made me feel much more settled about my first lesson.
Throughout the many intense hours, I learned a lot but also had a good laugh and in my many 'diva moments' and turning the air blue he could calm the situation easily (or just give me some chewing gum haha!). I felt the workbook and dvd system was really helpful, giving me time at home to read and watch it at my own pace and go over things I stuggled with in the lessons. The text was clear and easy to understand.
I wasn't a first time passer but that didn't hold me back. I was given the confidence and positivity in my driving before I sat my test although a wee mistake here or there is always possible. Driving for me was life changing, I just thank Iain for making the journey to getting that wee pink card an enjoyable one! Thanks Iain!!! Xxx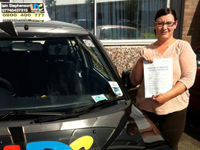 Donna Colquhoun
Weekly lessons
Massive thanks to iain for being such a fantastic driving instructor. Was very nervous at the prospect of learning to drive but iain is very patient and makes u feel relaxed and calm and settles your nerves easily. Really liked having the workbook and LDC dvds throughout, they are a great help as you can plan each lesson and you have a good idea of what you are going to do each time you are out in the car. Would highly recommend Iain as a driving instructor :)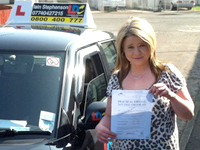 Debbie Campbell
Weekly lessons
Thanks to Iain I managed to pass my test 1st time. Iain is friendly, reliable and always very supportive. The LDC course really worked for me. I found the work book and DVD extremely helpful as I could prepare for each lesson in advance. Having these heplful tools also meant that I could look back over anything I was having difficulty with. I cant sing Iain's praises highly enough he helped me cope even when I thought I couldnt. He always believed in me and his friendly manner always meant I would look forward to each lesson. So once again thanks Iain for all the help.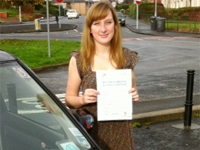 Liliana Rzesutek
Midway Pass
I think comparing to others I had a big experience when it comes to numbers of driving instructors I have had. Iain was my third and fortunately last driving instructor, who really helped me to improve my driving skills. He taught me to drive, the way I actually thought was right and safe (not like the other instructors, when I felt something wasn't safe and they keep saying me that this is right).
Iain no matter what would happen always stayed calm, which for me was very important, he never been late for a lesson either. He is a good listener and for a foreign people he has an easy accent to understand JI felt very well prepared when getting my first time driving exam, and only fail because of my mistake, but I passed second time without any problems.
I can honestly recommend Iain and also the LDC book and cds, there were very helpful, and even so they are not for free, it's worth it as it safes you money on the lessons, where you actually learn how to drive and not listen for 20 minutes instructor's explanation about particular topic.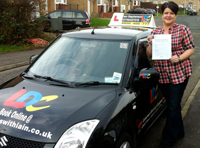 Linda Redden
Semi-intensive
Thanks for all your help, support, patience and most of all confidence you had in me Iain that I could do it. You're the best!!!!! Atleast your ears can get a rest now Lol. Thanks Again :-)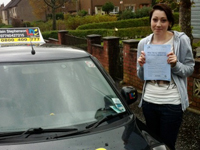 Karen Murphy
Midway Pass
Iain was a great instructor who helped build my confidence in myself. The workbook and DVD made a huge difference as I felt prepared for every lesson.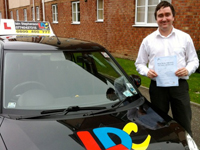 Colin Berry
Semi Intensive
Learning with Iain was a superb journey from start to finish. Iain's experience meant he was able to coach me through every situation that arose with real life scenarios and examples that helped me grasp the theory and key elements. Iain's is really thorough (and calm - especially when I wasnt!) in his approach and, supported with the book and DVD, I always felt fully prepared for each lesson which really helped accelerate my learning and maximise the amount of time spent doing practical training. More that gaining a driving licence, Iain has given me key skills which I will carry with me for years to come. Thanks for everything Iain. Your 'pressure cooker' trick on the mock test is safe with me! Colin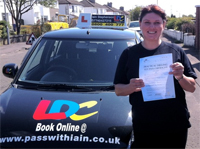 Linda Blair
Midway pass
The study system from LDC is excellent. I felt prepared for all my lessons and had the opportunity to recap on what I had learned between lessons making further practice more rewarding. Thank you Iain for your patience and great attitude towards improving my driving. The system does work.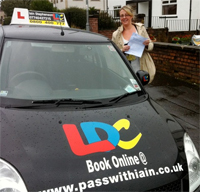 Nicola Middleton
Weekly Lessons
Hi Iain just wanted to say thank you very much for helping me pass and all your patience past year. Loving driving went to Silverburn last night myself with busy traffic and did the school run and work this morning xxx
The LDC system, workbook and DVD was great I could really prepare for each lesson in advance and if I was struggling to grasp anything I could refer back to my workbook. My Instructor Iain Hill Stephenson was very patient especially in the early stages, his ability to make me feel confident really helped me through each lesson. Thank you LDC.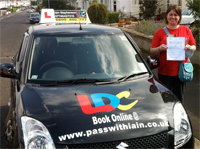 Caroline Waters
Thank you very much once again for being a fantastic instructor. Your patience and confidence in me, really helped to boost my own confidence in passing my test. Thank you for getting me through it.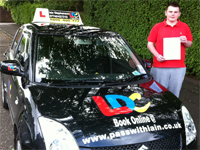 Graeme Roberton
Semi-intensive
Iain is an excellent driving instructor. I passed my test within 5 months of starting lessons. Iain provided a clear structured learning program, which kept me on track. I would recommend him to anyone and everyone. People wanting to drive should contact him straight away; I've never looked back. Thanks alot for everything !!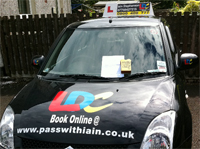 Laura O'Hare - First time pass
Weekly lessons
I had been taking lessons with another instructor but was not progressing as well as I had hoped. I contacted Iain and within a few lessons I was more confident in my driving and focused on passing my test. Iain was always very patient and supportive, even managing to help me to overcome my constant chatting (well almost!!). The LDC workbook lets you plan your lessons and really helped me to see the progress that I was making. Having the DVD and workbook at home meant I could review the lessons at a time that was suitable to me. I passed my test 1st attempt thanks to Iain's encouragement and would recommend him to anyone interested in taking driving lessons. Thanks again Iain.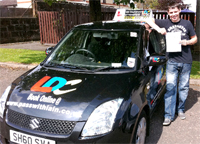 Kevin Colquhoun
Weekly Lessons
I would like to say thanks very much to Iain for getting me through my driving lessons and test. When I first contacted Iain I had said how I needed to have it quickly. We worked on it over 2 months. Had the right amount of lessons. After failing my first test I felt crappy. With Iain's help we got right back on the horse and had another one 2 weeks later. Passed my test with flying colours thanks to you Iain. Very big thank you. His methods, sense of humour, teachings were all very valuable to me.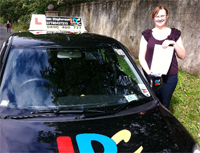 Agata Musialak - First time pass
Midway pass
The LDC program was just perfect for me. The book and DVDs contained everything I needed to pass my exam. I had time at home to prepare myself for each lesson. I could watch over and over again all lessons and manouvers. This was effective because I didn't waste my time during the lesson for unnecessary questions and doubts.
I was afraid at the beginning that I would have some language difficulties because English is not my primary language, but Iain always had time to explain any doubts. Driving with Iain was a real pleasure. He was very supportive and patient. That helped me to deal with all my driving mistakes and build self confidence on the road. I was very stressed before my driving test, but his positive attitude helped me to relax and at the end my test was just another simple drive. Thanks to Iain I passed 1st time.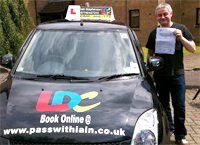 Ally Morrison - First time pass
Test Booster
I took 35 lessons with another driving school and failed. Badly! It was a very offputting experience and I thought that I just wasn't cut out for driving. After much persuasion, I got back behind the wheel and after 15 lessons with Iain I passed!
The LDC course is excellent. Each lesson concentrates on one main theme, allowing you to develop your skills incrementally. The book and DVD are very clear and easy to follow. Do your homework before the lesson and everything makes sense when you get behind the wheel.
Iain has a real passion for his job and it really rubs off. He went 'the extra mile' on each lesson to make sure I got my driving to the required level. I was far from confident in my own abilities when I started my lessons but Iain has a great rapport and made me feel at ease and boosted my confidence tremendously. By the time of my test date I was confident I would pass. And I did! And his track record shows that you will Pass With Iain too.
I would also recommend the Pass Plus. Motorway driving in particular seemed daunting to me but with Iain's support I now have many hours' motorway driving behind me and can join, overtake and leave motorways with ease.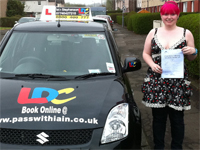 Jaclyn Smith
Midway Pass
Iain was a great instructor he always explained everything really clearly and put me at ease. The combination of a friendly face, bad jokes and a relaxed environment allowed me to develop my skills quickly. I found the book and DVD systems helpful as it allowed me to get the most out of each lesson and Iain was always happy to answer any questions I had. Already having my motorcycle license gave me a start but Iain made learning to drive a car even easier.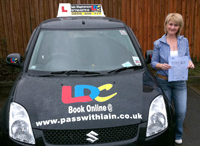 Sharon Faulds
Weekly Lessons
I had been considering taking driving lessons for several years but as I am in my forties I felt really nervous and very very anxious about starting. However after speaking to Iain I decided to go ahead.
Iain was a very patient instructor, making me feel at ease on every lesson. His patience, teaching and overall good advice helped me to pass my driving test at the the first attempt.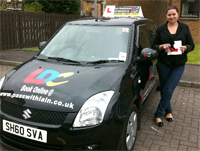 Linda Robinson
Weekly Lessons
Iain was my second instructor,and i found the LDC training methods helped me in-between lessons as i had my lesson workbook to study with lesson quizzes in it, the CD ROM to go over my theory and the DVD to show me the practical test and the lessons so i was prepared fully for each lesson and the driving test. Iain is a fantastic instructor,very patient,funny and adapts well with different kinds of people,trained me to a high standard and built my confidence so i was fully ready for both my theory and my practical test. I would recommend Iain to everyone that wants the best instructor and to be a great driver.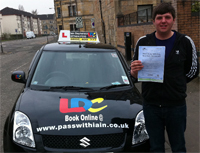 Ryan Morrison
Semi-intensive
The LDC program was a brilliant way to learn to drive! The extra books and DVD were a great way to top up on anything I wasnt totally confident on and reinforced everything in the lessons.
Being in the car with Iain was always good fun although i was always getting better in every lesson. Iain was extremely supportive and being taught by someone so relaxed made it alot easier on the test days!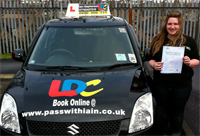 Nikki McPhail
Weekly lessons
I found the LDC training system with Iain fantastic. Due to my job, I did Saturday lessons with long absences, evening lessons and a two-week intensive course. I would have expected long absences to have a negative impact on my driving however, the LDC system made it easy to remember everything once I was back behind the wheel.
I constantly hear complaints from friends that they do not feel that they are progressing with their driving, as their lessons are very repetitive. This is not the case with Iain. Something new is learned everyday and the homework really helps to keep you on your toes. The DVD is really useful too.
Iain has a lot of patience (if he can be patient with me, he can be patient with anyone!) and he really listens to your concerns. He always includes what you want in a lesson to make you feel at ease. Most importantly, he makes driving fun! The "banter" flows throughout a lesson and it still feels professional.
My biggest problem was nerves, which Iain helped me tackle. It was good to know that I could call Iain in the days leading up to the test with any pre-test jitters and get good advice. I honestly don't think I would have passed my driving test with any other instructor and I will be sure to recommend him to anyone looking to take lessons in the future!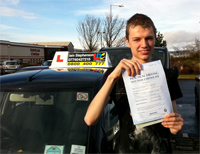 Jamie MacNee
Weekly Lessons
Iain was very supportive and it made a huge difference using the LD system because it reinforced the material covered in lessons.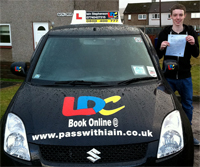 Stuart Wilson
Weekly Lessons - First time pass
I was already experienced in driving and had been with another instructor before Iain. Through the use of the LDC books and DVDs, along with Iain's great teaching ability and his ability to get along with others I passed my test 1st tim.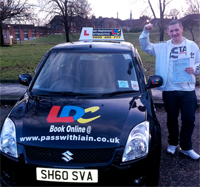 Sean McGowan
Weekly Lessons
The system was very helpful and easy with a step by step guide to ensure a pass.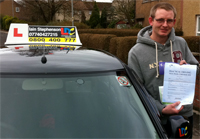 Gareth Gilmour
Weekly Lessons - First time pass
Learning to drive with LDC made me a more confident driver. My instructor was very supportive, patient and very professional. The DVD and workbook made all the difference in my learning. Being able to study at home was a huge advantage.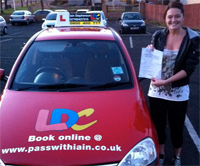 Laurie McCracken
Weekly Lessons
I'd like to thank Iain for all the help he gave me. The system we used has made me a confident & safe driver, thanks once again.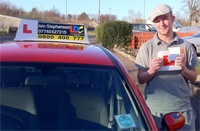 Daryl Ainsworth
Weekly Lessons - First time pass
Hi Iain, the LCD system I can say worked wonders for me. The combination of the DVD and book is pure genius. As an instructor you helped a lot, your patience and personality were amazing. I would recommend you to like everyone.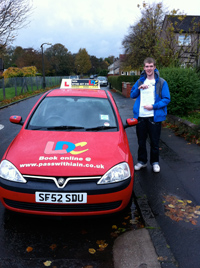 Blair Murray
1st time pass
I found the LDC training system an easy and helpful way to pass my test. My instructor Iain made my lessons interesting and fun. His enthusiasm encouraged me and gave me the confidence and skills to pass first time. I would have no hesitation in recommending him to anyone who is thinking of starting lessons. Thanks again Iain.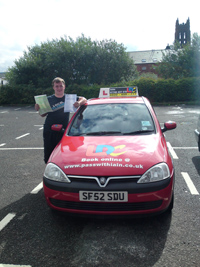 Jamie Millard
Midway pass course
The LD system is great. I had lessons in the past where we seemed to do the same thing every lesson but with the LD system you know where you are at, what you are doing next and what you still have to achieve. Following your own progress keeps you in control of your own learning.
As a nervous learner getting back into driving after a 3 year absence I needed a lot of help and patience to overcome my fear of getting back in the driving seat. Iain provided that environment which kept me relaxed. Even when I made mistakes he helped keep the situation calm before pulling over to quietly discuss how we can improve. I can't thank Iain enough for helping me finally become the driver I knew I could be.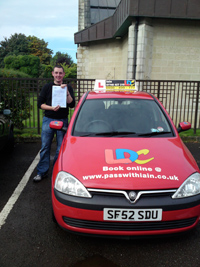 Michael McKay
1st time pass - Weekly lessons
I found the LD system a valuable tool to help me learn to drive from scratch. The course was well structured and pushed me to achieve my goals. Having the home study materials meant that I was well prepared for each lesson and used the lesson time for effective practice.
Iain is a great instructor I would recommend to anyone who is looking at learning to drive. He eased all nerves and made the whole experience relaxed and fun. He is friendly and patient which made learning to drive a pleasure, which meant I learnt quickly and effectively. I now enjoy driving and it is all down to Iain - Thanks for Everything!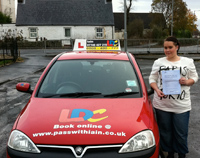 Lauren Donnachie
I had been with another driving instructor for a number of lessons, but felt that I was not progressing with him. I contacted Iain at LDC and within a few lessons, felt that my confidence and abilities had progressed immensely. I can't thank Iain, and LDC enough for their help in getting me through my test, Thank you once more, Lauren Donnachie.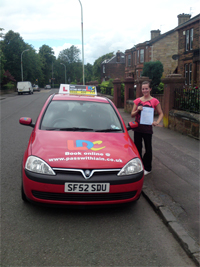 Paula Kelly
I personally felt the LDC programme was an excellent way to learn to drive. My instructor was very friendly and gave me the confidence boost to help me on my way. I found the workbook & DVD very beneficial to go through at home. I would recommend LDC to friends & family.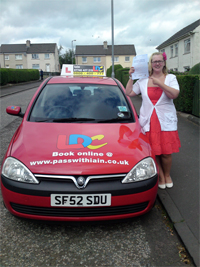 Lynsey Cuthbert
I passed because of Iain's persistence, encouragement & approachable personality. The LDC course is well structured and teaches you skills not just for the test but for life.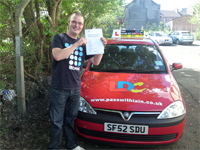 Scott Smith
I felt really comfortable learning with Iain. If I had any questions or didn't understand anything he was quick enough to help. I passed my theory 1st time round as he was always checking I had done the homework! ha! The LDC system was really clear and easy to use. He is one of those guys who wants you to do well and pass your test 1st time; I didn't feel as though he just wanted my money (been with previous instructors like that!). Would highly recommend....11 out of 10!!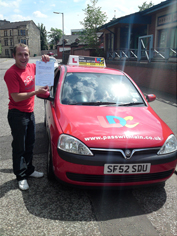 Mark McConnachie
Thanks Iain for being a good listener and having the patience to make me the driver I am today, considering the way I used to drive. The LDC system was well set out and easy to use. Having the workbook and DVD close to hand to revise with in my spare time really helped my lessons be successful.
Bruce McNeill - Tutor
As Iain's tutor he has developed into a very competent, professional and friendly instructor who will help you enjoy learning to drive safely for life.
Grant Gilbert - Trainee Instructor
Iain has a very professional approach to his teaching. I found his assistance at Part 3 to be invaluable. I would highly recommend Iain as an instructor.
Mike Parnis
Having started with Iain as a 'newbie' I found his style of tutoring very relaxed, helpful and encouraging. I would happily recommend him. Mike Parnis at www.PennyLaneHomes.co.uk
Lana Wilson
I had the pleasure of being one of Iain's training buddies. Iain was passionate about becoming a driving instructor and his enthusiasm shone throughout each of our training sessions. He has a great personality and his learning and teaching skills are of great value to me.
Iain, I wish you every success in your new career.
Susan MacFadyen
Iain is a friendly, patient, easy going person - all the attributes you want in a driving instructor. He takes great pride in his standard of teaching & is always finding new ways to improve his methods therefore guaranteening you get a high standard of tutition on every lesson. As a fellow instructor, who trained alongside Iain I would thoroughly recommend the LD System of tuition & Iain as your instructor, you will not be disappointed.